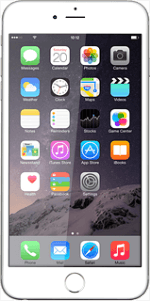 Apple iPhone 6 Plus
iOS 11.0
iOS 10.1
iOS8

If you don't know your device's software version, you can check it by selecting Settings > General > About.
Cancel all diverts
If you no longer wish to divert your calls to your voicemail or another number, you need to cancel the diverts.
Key in
##002#
and press
the call icon
.
2.

Return to the home screen
Press
the Home key
to return to the home screen.