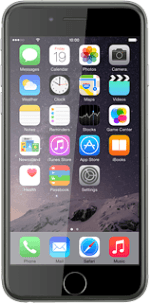 Apple iPhone 6
iOS 11.0
iOS 10.0
iOS8

If you don't know your device's software version, you can check it by selecting Settings > General > About.
Key in the name of the required app and press
Search
.
To install a free app:
Press
FREE
.
To buy an app:
Press
the price
.
Press
BUY
.
Log on to App Store if you're asked to do so.
Follow the instructions on the display to install the app.
The installed app is now available from the main menu.
4.

Return to the home screen
Press
the Home key
to return to the home screen.