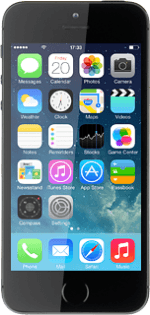 Apple iPhone 5s
iOS 9.0
iOS8
iOS7

If you don't know your device's software version, you can check it by selecting Settings > General > About.
Write and send an iMessage
Your text messages can be sent as either regular text messages or iMessages. iMessages can be sent to phone numbers or email addresses if the recipient has a device which supports iMessages. Remember, you need to set up your phone for iMessaging.
Press
the new message icon
.
Key in the first letters of the required contact.
Matching contacts are displayed.
Press
the required contact
.
If the recipient can receive iMessages,
iMessage
is displayed.
5.

Return to the home screen
Press
the Home key
to return to the home screen.