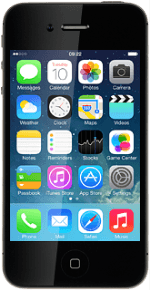 Apple iPhone 4S
iOS 9.0
iOS7
iOS5

If you don't know your device's software version, you can check it by selecting Settings > General > About.
Select network mode
You can select which network modes your phone should use. This selection influences the data speeds you can achieve.
Press
the indicator next to "Enable 3G"
to turn the function on or off.
3G enables you to achieve higher data speeds than when using GSM.
If you turn on 3G, your phone automatically switches between the two network modes provided you're within range of a 3G network.
If you turn off 3G, you can't achieve high data speeds.
3.

Return to the home screen
Press
the Home key
to return to the home screen.