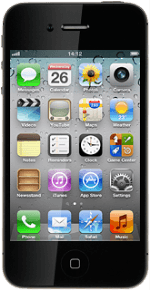 Apple iPhone 4S
iOS 9.0
iOS7
iOS5

If you don't know your device's software version, you can check it by selecting Settings > General > About.
Connect Bluetooth devices
Bluetooth is a wireless connection which can be used to transfer files between two devices or to establish a connection to other devices, such as a wireless headset or keypad. Follow these instructions to connect Bluetooth devices.
Press
the indicator
next to
Bluetooth
to turn on the function.
3.

Connect Bluetooth device
Your phone now searches for devices and after a moment, a list of Bluetooth devices within range is displayed.
Press
the required Bluetooth device
.
The new device is displayed on the list of paired devices.
In some cases, you need to key in an access code of your own choice. You also need to key in the access code on the other device.
Press
the Home key
to return to standby mode.