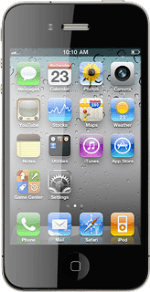 Apple iPhone 4
iOS5
iOS4

If you don't know your device's software version, you can check it by selecting Settings > General > About.
Set an alarm
Your phone has an alarm you can set to wake you up or as a reminder of something. Follow these instructions to set an alarm.
Press
+
at the top right corner of the display.
Drag
the wheels
to set the time for the alarm.
Press
the required setting
.
When a day is ticked (
V
), it's selected.
Press
the required alarm tone
.
Press
the indicator
next to
Snooze
.
Depending on the current setting, the function is turned on or off.
Press
Label
.
Key in the required name.
Press
the Home key
to return to standby mode.